Breast Cancer Survivor Add campaigns in October – a critical review of professional integrity
As a Breast Cancer Survivor, I am truly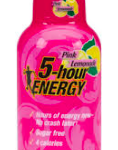 offended by companies like 5 hour energy and so many others who are trying to swing a buck on us with "pink ribbon campaigns" right now.
Their products, chemical laden and extremely unhealthy, not only add more toxins to the already strained bodies of many people who are drinking them, they also promote a lifestyle where balance doesn't matter, health doesn't matter and sleep doesn't matter.
They are making people sick. And as a cancer survivor we need to stay away from this as far as we can.
Anybody should, truly. 
But on top I this, they donate "a portion of the proceeds".
So here's the deal: if I want to support a cause, I donate and/or volunteer for them directly.
I don't have to buy an energy drink or some kind of pink colored stuff to do good in the world.
And neither do the companies who are using sick people and survivors for heir add campaigns to create more revenue.
Do they really need to make more money off of kind hearted people who want to help, before they can afford to give money for a cause. Really?
If this really means something to them: why do they just support this in October?
Why not every day, quietly, without an add campaign?
Why do they make more and more people sick all year round by supporting them in pushing themselves way past healthy limits, and then in October they ask people to buy even more Of their chemical concoctions to help with the research and aftermath if it all.
I am tired of seeing pink blenders, pink stuff, pink products everywhere. None of these help women and men stay well and healthy.
Cancer is easier to avoid than to cure.
An the key is a healthy, happy life style, with emotional support, balance and kindness, with lots of fresh air, organic, healthy foods and drinks, minerals, lots of oxygen and a PH o. 7.5 or higher.
People need to live a life they love, without crazy and ridiculous expectations to what else they should be or do, to have the strongest immune system ever to deal with this crab.